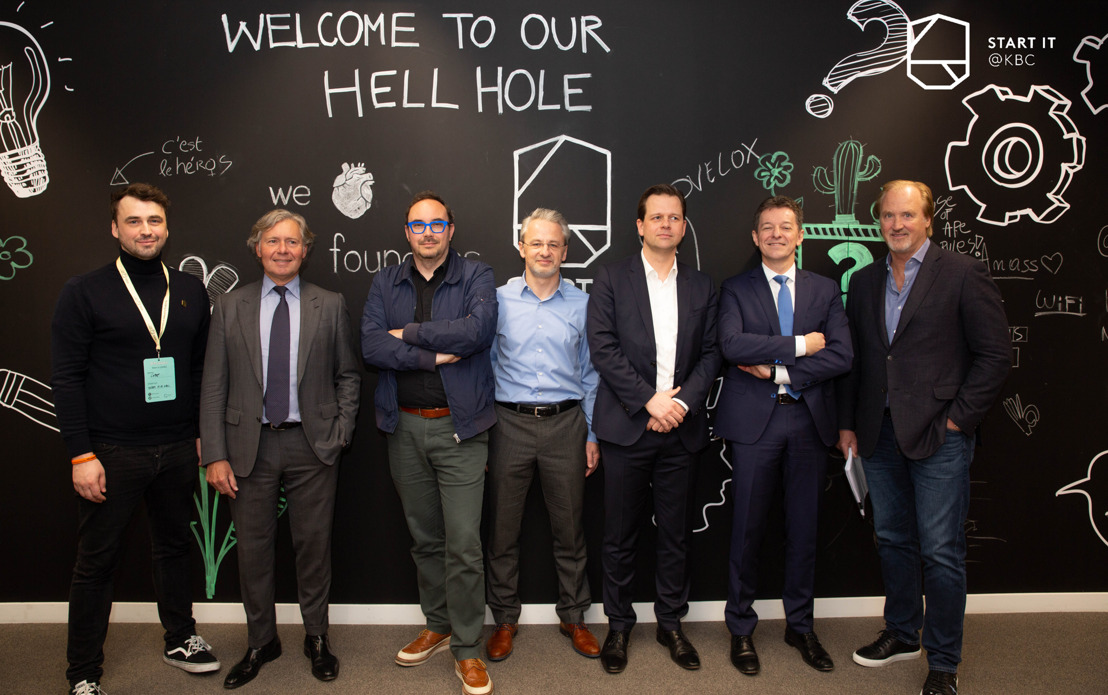 Belgian captains of industry choose 59 new startups for Start it @KBC
Productivity software and energy solutions highly represented at startups
59 startups join the largest startup community in Belgium.

Startup trend: software to improve productivity continues to be strongest sector; energy sector is on the rise.

30% of the selected teams have one or more women on board.

Jubilee year: Belgian captains of industry reconfirm partnership after five years of Start it @KBC.
Brussels, March 29, 2019 - The 17th pitchwave in the five-year existence of Start it @KBC provides 59 brand-new startups for the accelerator. After a strict preliminary round, the startups were selected by a live jury with, among others, Manager of the Year Johan Thijs (CEO KBC), John Porter (CEO Telenet) and Dirk Deroost (CEO Cronos). The most striking startup trend: software to support the improvement of productivity continues to be the strongest sector, but energy is highly represented in this latest cohort.
In the first pitch round of 2019, no fewer than 192 companies tried to secure a place within Start it @KBC, Belgium's largest accelerator. 105 of them got the opportunity to present their business model to the live jury during Pitch Day yesterday. This was strengthened this time by the CEOs of the strategic partners behind Start it @KBC, thereby confirming their commitment to Start it @KBC.
Johan Thijs, CEO KBC and Trends Manager of the Year: "It is important that we stand here today to support startups and scale-ups. As corporate companies and educational institutions, we join forces in Start it @KBC to support tomorrow's employers. Their innovations will help us cope with the many challenges in the field of sustainability, environment, mobility, communication, and so on. Not only in Belgium, but throughout the world."
The 59 new startups will undergo an intensive three-month acceleration program within Start it @KBC. After this, a Boardroom takes place and those receiving a positive assessment at this point in the programme can continue to count on the advice of experienced mentors and experts for a year, participate in various workshops and enjoy more than 1 million euros in benefits from tech partners worldwide. In addition, all startups will be given a workplace in one of the six co-working spaces of Start it @KBC in Flanders and Brussels.
More energy
The ecological and social activism that can be heard in the streets these days results in innovative entrepreneurship, notes Lode Uytterschaut, founder of Start it @KBC, "With every pitchwave we see a higher number of startups that focus on energy and sustainability. The yellow vests, the many climate demonstrations, the lack of long-term vision of many policy makers,... It inspires people to do business, to take matters into their own hands and to make that change in lifestyle and economic models possible. Very interesting to notice how signals from society are reflected in our startups. We are happy that we have these innovators of tomorrow on board".
Starting today these promising startups are part of Start it @KBC:
33reasons, 72P, Abelcare, AlterEdu, Ask OLI, AYA Energy, Bartanel Discovery, Billie Cup, Blue Kangaroo, Bolt, Bothive, CarbonHex, CertN, Chimprotect, City Seedlings, DESelect, Destination Everywhere Accessible Travel, Digita, Eduvik, Foresightee, Freddy, Give a Day, go as u.r, Health Tea Kombucha, Homelab, Hopala, Human Districts, Invenira, inyourapp.ai, Keypoint, Koi Studios, Ladrillo, Lawren.io, LinkedCar, Manikin, Metis Supplements, Mileviewer, MonitHorse, MyNeo, Nakama HR, Nearcrowd, Nischala Technologies, No Milk Today, Real Brides, ReloTrust, Renard, Smooved, Spice, Startsome, Stepwise, Tappable, Tequinity, The Board Room, Theia Labs, Umital, ValCUN, Vegefied, Yugen.