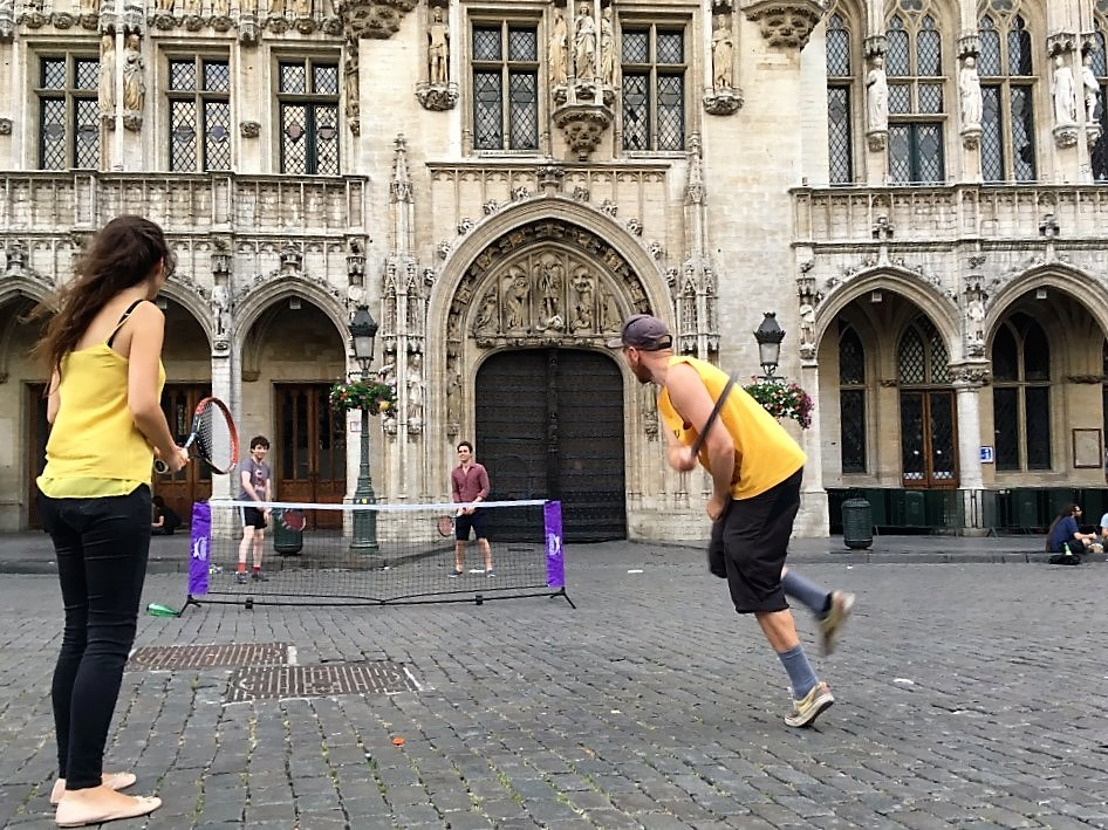 GoTennis is the first online tennis club with courts across a city
Thursday, November 23, 2017 —
Brussels – Looking for a tennis partner or a tennis court can be a nightmare and take up a lot of time. Our connected busy urban lives demand flexibility, which at the moment tennis is not able to accommodate. Meaning that less people are playing the sport. Today a Brussels based start-up GoTennis launched with a big party and a mission to bring tennis online, introduce flexibility to the game and revamp the sport for the connected age.
GoTennis is the first genuinely online tennis club with multiple courts across a city and its members can arrange a tennis game via gotennis.eu in as little as four clicks. No subscription, pay-when-you-play, big community of tennis players and the flexibility to play anytime and anywhere.
At the end of November all attention will be on the Davis Cup Final and looking ahead to the next year(s) in tennis. But the sport is not in a good shape, with participation either stale, or falling. For example, in Belgium participation has fell by 3.5% in only 3 years and that story is repeated across Europe.
The world has changed and people (but especially millennials) crave flexibility, easy solutions and to operate fully online on their smartphones. But tennis has not adapted, meaning the Spotify revolution in tennis is still to come…
Jacob Gloser, founder of GoTennis, saw that tennis participation is collapsing and wanted to do something about it. "I love and play tennis a lot, but I've always felt it was difficult to arrange a game in every city that I have lived in. I realised that what can solve this and make the sport much better is: marrying online with the real-world of tennis. This way convenience and a level of flexibility, never before seen in tennis, can be provided. For example: finding a partner and a tennis court can be done in as little as four clicks! At the same time, going online can connect a community of players across countries and open up tennis to anybody who wants to play."
GoTennis is the very first online tennis club of its type
GoTennis uses existing tennis infrastructure (by partnering with tennis clubs) and converting urban space to tennis courts, to ensure that our members have access to tennis courts, even between 6pm-9pm.
To then arrange a game all that GoTennis members have to do, is go on to the web-app, say when they would like to play and our smart systems instantly suggest possible players of the same level and a court that is available at the time and date they asked. Giving them total flexibility to play when they want and where they want.
In addition GoTennis intends to offer everything else what one would expect to find at a tennis club: coaching, fitness, socials, competitions, tickets etc.
Community matters
"Tennis is more than just a sport, it brings people together, builds friendships and creates a sense of community and belonging", says Jacob Gloser, the founder of GoTennis. "It shouldn't matter where you are, but you should always have a tennis club and your community at a touch of a button."
That is why GoTennis puts a lot of emphasis on the social side of things. There is an online space for people who just love tennis to connect, share/comment on tennis news, follow the latest tennis tips and tricks. But also to meet up during events and play urban tennis.
Only at the start of its journey
GoTennis want to quickly expand to other cities worldwide and grow. The start-up aims to develop a state of the art technology, incorporating AI and offer more innovative services. It is completely feasible that within 5 years GoTennis can have a have a community of 376 000 members, playing over 50 000 tennis games per month.
////
About GoTennis
GoTennis is an online tennis club with courts across a city, founded by Jacob Gloser in 2016. GoTennis started properly in April 2017 with a great team, vision and a robust business plan. By June, HEAD became the main sponsor and we raised the first bit of investment, started building the MVP and Jacob quit his job to be fully focused on GoTennis and prove that the model works. In October GoTennis was selected for the Start it @KBC accelerator program, finished the first technology, made partnerships with the first few clubs and built our urban court. We launched in November in Brussels, got ITF as our supporter and in the first 3 weeks got over 1500 followers on social media and over 200 active users.