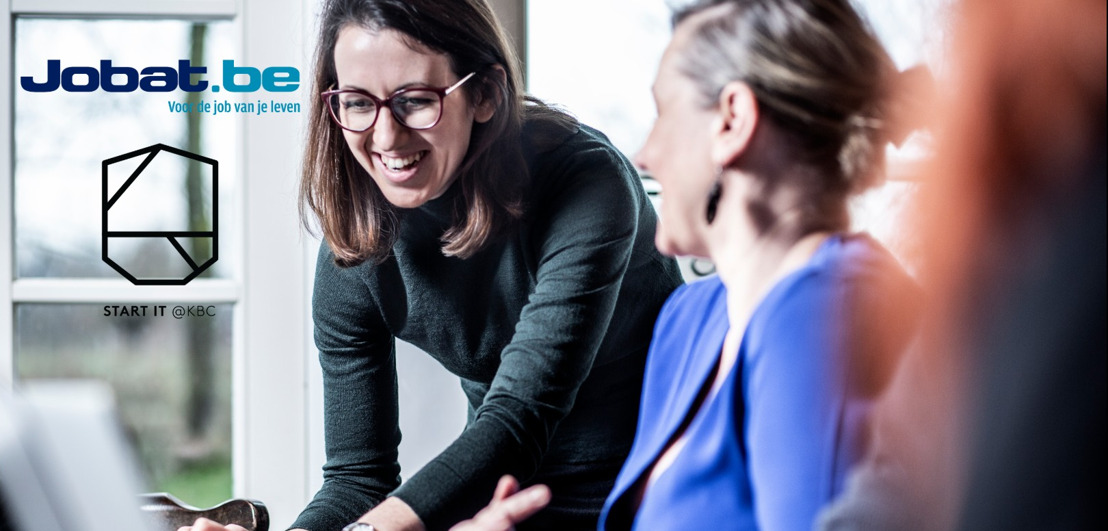 Jobat.be to assist start-ups with 1,000 vacancies
Start it @KBC and Jobat.be embark on partnership
Brussels, May 21, 2019 – Start it @KBC, Belgium's biggest start-up accelerator, and Jobat.be, the country's leading job platform for recruitment and employer branding, are joining forces. Over the next six months, the start-ups belonging to the Start it @KBC community are looking to recruit almost 1 000 extra employees: that's the finding of an internal survey of 451 active start-ups and alumni. The new partnership will enable start-ups in the Start it @KBC community to draw on the know-how and expertise that Jobat.be possesses.
In January 2019, Start it @KBC surveyed the active start-ups and alumni in its community to gauge the economic impact of the start-up community. It found that its businesses were looking to recruit almost 1,000 new employees between them in the coming months.
Lode Uytterschaut, Founder & CEO of Start it @KBC: "The average start-up in our community employs four people and is looking for two more. Thanks to the partnership with Jobat.be, our start-ups will now be able to spotlight themselves and their potential more effectively for a larger target audience. The employment market is pretty tight, right now, which means it's not easy to recruit the right employees, especially ones who fit the business culture."
Start-ups can now use a Brand Page at Jobat.be to describe what their firm stands for in their own words, images, videos and house style. They can also use Jobat.be's extensive network to advertise their vacancies.
Mark Maldeghem, Business Director at Jobat.be: "Start-ups are the ideal environment for people at the beginning of their career. They can learn a huge amount in a short time, because of the variety the job offers. It's not just a question of tech jobs, either: support profiles are needed too, such as sales and marketing people and, at a later stage, brand managers and representatives. Start-ups definitely aren't just looking for technical profiles."
Greater freedom and engagement
Start-ups find it harder to attract staff than established businesses, partly because they are less well-known. What's more, they often lack the financial resources to share their vacancies with a large audience and to offer a salary package as attractive as that of a large company.
All the same, working for start-ups can offer a lot of benefits.
Lode Uytterschaut, Founder & CEO of Start it @KBC: "Anyone who values engagement and self-development will definitely feel at home at a start-up, many of which have been launched with a strong mission and the ambition of changing the world. So, working for a start-up can offer you greater creative freedom and autonomy. If things go well, you'll also develop faster, the decision-making process is quicker and there's no complex hierarchy. You have a much stronger sense of being part of a team."
Anyone who likes the idea of working at a start-up can now find all the current vacancies with a single click on the jobs page at www.startit.be.
//////
ABOUT JOBAT.BE
Jobat.be has been the prominent and innovative recruitment & employer branding platform for years now. Via a mix of various online and offline channels and a strong partner network, Jobat.be connects candidates and businesses. This approach guarantees an unprecedented scale, with a bigger reach and an even more diversified range of jobs. Apart from a reliable online job platform, Jobat.be also offers candidates interesting facts, tips and tricks and the ability to find out more about the employer brand of a company. This way, Jobat.be not only targets active job seekers but it also triggers those who are not necessarily looking for a job. Jobat is also the publisher of MARK Magazine, the only cross-media publication entirely dedicated to employer branding. The interesting stories in this magazine bring employers and employees closer together.