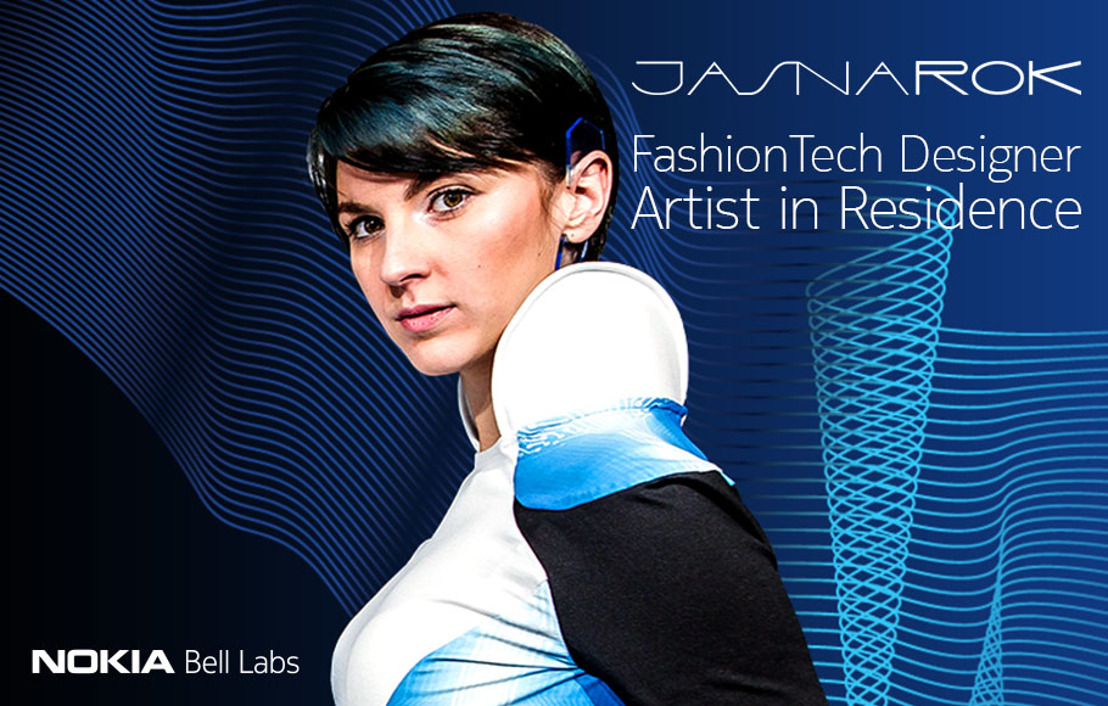 Nokia Bell Labs and Jasna Rok Announce Partnership to Design Innovative Sentient Wearables
Thursday, May 11, 2017 —
Espoo, Finland – Jasna Rok and Nokia Bell Labs today announce a new partnership between Jasna Rokegem, a Belgian FashionTech designer, and Nokia Bell Labs technologists to expand the possibilities of artistic expression and technical innovation for the future of wearable items.
Nokia Bell Labs has a long and distinguished history of supporting the creation and production of new art by leveraging its in-house technological skill and innovation, beginning over 50 years ago with the pioneering E.A.T. (Experiments in Art and Technology) project initiated by two Bell Labs engineers, Billy Klüver and Fred Waldhauer, and two artists, Robert Rauschenberg and Robert Whitman. The unique collaboration aimed to foster meaningful exchange between fields and explore the human condition at the beginning of the electronic era.
Jasna Rokegem, an award-winning young and energetic pioneer combining innovative fashion and cutting-edge technology, founded Jasna Rok, the first FashionTech design studio in Belgium. The studio was created to reconcile advanced technologies with interactive fashion and does so by collaborating with technology partners globally. Jasna Rokegem is working with Nokia Bell Labs scientists, who are consulting and collaborating with her on designing a sentient garment that engages emerging technologies, including Augmented Reality (AR), Virtual Reality (VR), Internet of Things (IoT), haptics and augmented intelligence.
The sentient garment will act as a smart fashionable augmented skin, enveloping its wearer with an intimate and expanded perception of himself/herself (health, emotions, thoughts), people, things, the world and other communicating garments. All the physical senses such as haptic and tactile interfaces will be explored to create novel modes of communication, whereby, for instance, remote presence can be expressed by touch, and personal contextual state and even physiology can be sent remotely to another person, place, or provider of enhanced human digital services. The garment will form a symbiotic skin that will serve as the prime interface to the cyber-physical world, adding a new type of nervous cell to the human experience.
Marcus Weldon, president of Nokia Bell Labs, said: "At Nokia Bell Labs, we search for the fundamental limits of what is possible, rather than being constrained by the current state of the art. We look to the future to understand essential human needs and to enable a new human existence by exploring unique sensory dimensions, forms of communication and emotional responses. Working together with Jasna Rok we will create the future of connected wearables that elicit, transmit and receive multidimensional sensory experiences, allowing us to explore the future of human communications."
Jasna Rokegem, founder of Jasna Rok: "Thanks to FlandersDC (District of Creativity), I came across the Nokia Bell Labs vision of 'building the digital fabric for the automation of everything and the creation of time.' This vision aligned 100% to my vision of pushing the boundaries of fashion in our digital dimension. I'm very eager to bring the latest Nokia Bell Labs research and vision alive in a fashionable interface."
Jasna Rok is part of the Start it @kbc accelerator program which supports innovative and scalable entrepreneurship.
About Jasna Rok
Jasna Rok is a fashion and technology design studio that combines innovative technologies with interactive fashion. Not only in creating unique projects and collections, but also in bringing these to life by using techniques such as virtual and augmented reality. Jasna Rokegem has a strong vision on the clothing of the future and how it can add value to our daily lives. She provides a window to show the endless possibilities of technology and science today.
As an international award-winning design studio, Jasna Rok is on the cutting edge of fashion & technology, going against the fashion grain (runway, season, real sustainability, …) with its visionary yet pragmatic outlook on the role of FashionTech in our daily lives, both for high-end brands and innovative tech companies.
For more information, visit www.jasnarok.com
About Nokia Bell Labs
Nokia Bell Labs is the world renowned industrial research arm of Nokia. Over its 90 year history, Bell Labs has invented many of the foundational technologies that underpin information and communications networks and all digital devices and systems. This research has resulted in 8 Nobel Prizes, two Turing Awards, three Japan Prizes, a plethora of National Medals of Science and Engineering, as well as an Oscar, two Grammys and an Emmy award for technical innovation. Nokia Bell Labs continues to conduct disruptive research focused on solving the challenges of the new digital era, defined by the contextual connection and interaction of everything and everyone, as described in the book, The Future X Network: A Bell Labs Perspective.
For more information, visit www.bell-labs.com
About Nokia
We create the technology to connect the world. Powered by the research and innovation of Nokia Bell Labs, we serve communications service providers, governments, large enterprises and consumers, with the industry's most complete, end-to-end portfolio of products, services and licensing.
From the enabling infrastructure for 5G and the Internet of Things, to emerging applications in virtual reality and digital health, we are shaping the future of technology to transform the human experience.