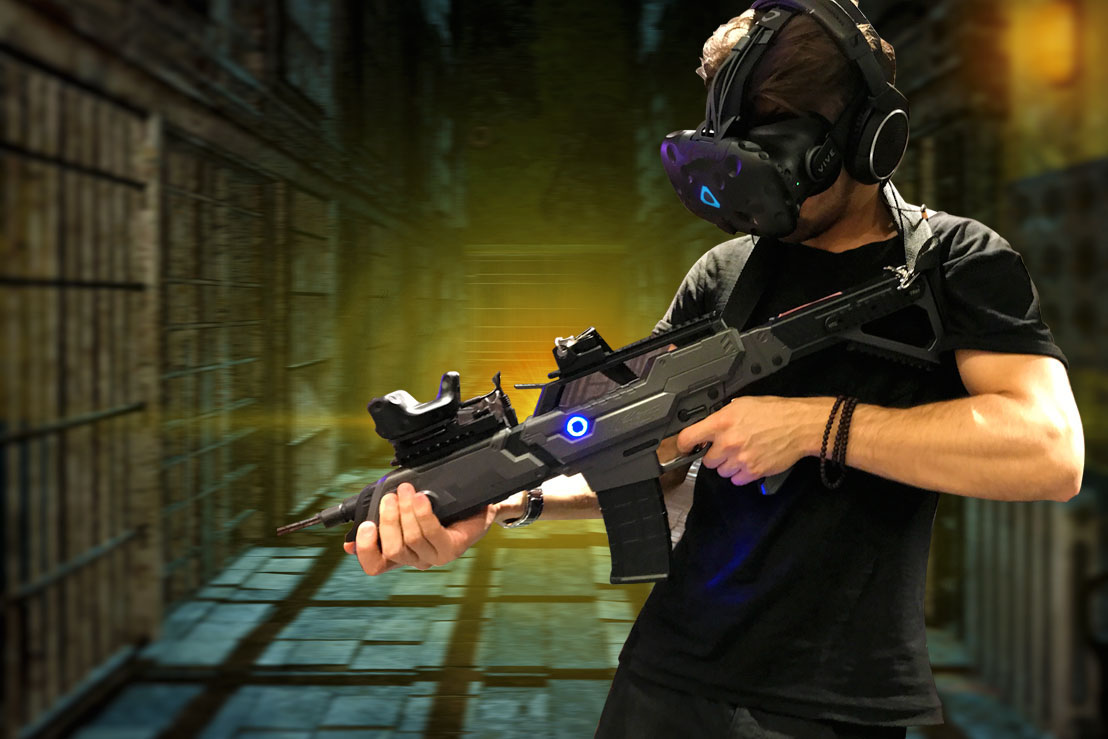 PRESS INVITATION - VRPLUS and Outpost Gamecenters launch their first Virtual Reality gaming room in Belgium
12 February 2019, 12.00-2.00PM | Outpost Antwerp, Beggaardenstraat 6, 2000 Antwerp
Antwerp, 6 February 2019 - VRPLUS, a startup developing virtual reality experiences, launches its very first Virtual Reality Gaming room in Europe on Tuesday the 12th of February in cooperation with Outpost Gamecenters. The Outpost VR Experience uses the latest VR technology to bring a quality selection of four short, intense and action-packed games to groups of up to 5 people.
The games developed by VRPLUS can only be played within the network of VRPLUS venues. Four game scenarios will be available upon launch, with new titles expected to come out on a regular basis. VRPLUS expects to finish at least 6 more games by the end of 2019. VRPLUS is part of the accelerator Start it @KBC that supports innovative and scalable entrepreneurship.
Our games are alive!
The four launch titles are all shooter games that are played cooperatively. Guardian Heroes and its sequel Guardian Heroes 2 are child-friendly, vibrantly colourful games where you fight animated robots in a world that does its best to trick your senses. Lost in Jurassic accidentally transports players back in time to an age where ancient, mighty beasts stalked the lands. Hospital of the Dead is the first instalment of a classic zombie shooter game series where you hold off hordes of undead in a spooky, run-down medical facility.
VRPLUS is one of the only companies on the Belgian market capable of offering their games in 4K definition by using the HTC Vive Pro, one of the best performing VR-devices currently available, to its fullest potential. Also, these games have been specifically designed to eliminate certain well-known problems with virtual reality, such as motion sickness.
All scenarios are short, intense, and action-packed and last between ten and fifteen minutes. They are engineered in such a way that new content can be added continuously and sequels are easy to create. You might even say they are alive!
Ambition: 50 VR cages by 2020
In 2019, Outpost Gamecenters plans to create four more of these gaming rooms in Flanders. VRPLUS expects to grow to around 50 locations throughout Europe by the end of 2020.
The public can enjoy these virtual scenarios starting from the 14th of February in Outpost Gamecenters' venue at the Beggaardenstraat 6 in Antwerp. The Outpost VR Experience will also be present at the 1UP Conference in Kortrijk on the 15th and 16th of February as well as the Spring Edition of FACTS on the 6th and 7th of April.
//////
Note for the press:
Members of the press are invited to come test out the games in avant-première on Tuesday the 12th of February, between 12h00 and 14h00, in Outpost Antwerp (Beggaardenstraat 6). Both VRPLUS' CEO Jack Xin and Outpost Gamecenters' CEO Steve Fierens will be available for questions. All attending journalists will be provided with sandwiches and drinks. If you would like to attend this press event or if you have questions regarding the contents of this press release, please contact Steve Fierens: steve@outpost.be of +32 485 19 05 45.
About VRPLUS
VRPLUS is a Belgian start-up, supported by Start it @KBC, specialising in the development of cutting-edge virtual reality experiences. It intends to offer its technology and expertise to local partners in Europe to distribute these virtual reality experiences both to individual consumers and businesses alike. In China, there are already 50 locations in the VRPLUS network. In the future, the company intends to develop games aimed specifically at the European market, and will establish a local development cell in order to localise and support these games.
About Outpost Gamecenters
Outpost Gamecenters has been catering to enthusiasts of various, often overlapping, aspects of gaming since 1997. Outpost Gamecenters supplies the necessary materials, organizes events, and provides a space for people to enjoy their gaming-related hobbies together. This leads to a vibrant local community of PC-gamers, Card Gamers and Board Gamers from all walks of life. Outpost has three gamecenters in Belgium: in Antwerp, Brussels and Ghent. Over 8.000 unique gamers visit an Outpost Gamecenter every month.