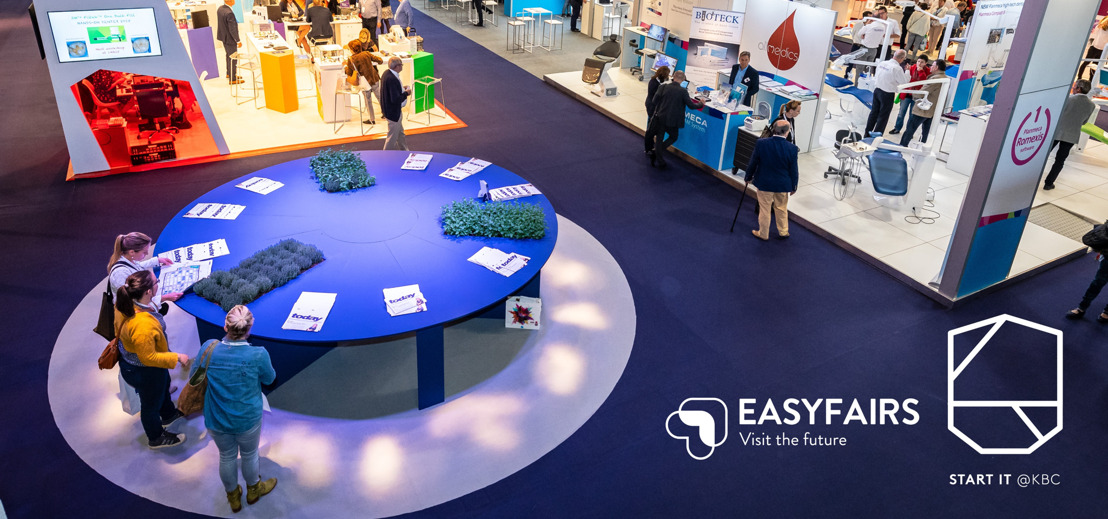 Sales of start-ups increase through partnership between Start it@KBC and exhibition organizer Easyfairs.
Brussels, March 4th 2019 – Start it @KBC, the largest accelerator in Belgium, and Easyfairs, the largest exhibition organizer in the country, officially team up. Thanks to this partnership, start-ups can profitably participate in the most important Belgian and international trade fairs, which will help them sell their services and products.
Research from Start it @KBC shows the start-up community has realized significant sales over the past five years, but unfortunately only one in ten sales meetings actually result in a signed contract. Because of this partnership with Belgium's largest exhibition organizer Easyfairs, start-ups will now have the opportunity to demonstrate their products at a range of trade shows in Belgium and abroad. This way their sales increase, which is essential for the survival of a starting company.
Lode Uytterschaut, founder and CEO of Start it @KBC: "Participating in trade fairs is an important way for start-ups to make their products and services known to their target groups, and to sell them. A paying customer is the most sustainable way of funding. Paying customers also ensure your company gets more valuable, which is important if you want to raise capital. As an accelerator, we will emphasise on sales and closing the deal even more in the coming year."
Choose between more than 30 events
Easyfairs organizes future-oriented events that bring communities and professionals together. The group operates in 17 countries and annually organizes more than 200 events, including numerous trade fairs. The Belgian company once begun as a start-up itself.
Dirk Van Roy, CEO Easyfairs Belgium: "Today Easyfairs is part of the top 20 of the largest trade fair organizers worldwide, but we started out as a family business, you can even say we started as a start-up. As a company that has entrepreneurship in its DNA and where "Visit the Future" is the motto, we want to support start-ups and therefore ensure the future of Belgian entrepreneurship."
Guidance to get more sales
Easyfairs Belgium adapts its offer to the needs of the start-ups within Start it @KBC. This allows them to participate at the Belgian trade fairs as well as a number of European trade fairs, and this at preferential rates. The start-ups also receive guidance to get as much sales as possible from their presence at the fairs. They not only get free access to an online toolbox to place their products, services and companies in the spotlight, but they can also participate in the Easyfair workshops, kick off events and conferences for free.
The upcoming trade fairs in which start-ups can participate are Bois&Habitat in Namur and the trade fairs Worksafe, Maintenance and M+R (Measurement and Control Techniques) that take place in Antwerp expo at the end of March. Please check out www.easyfairs.com for the complete list of trade fairs in 2019.