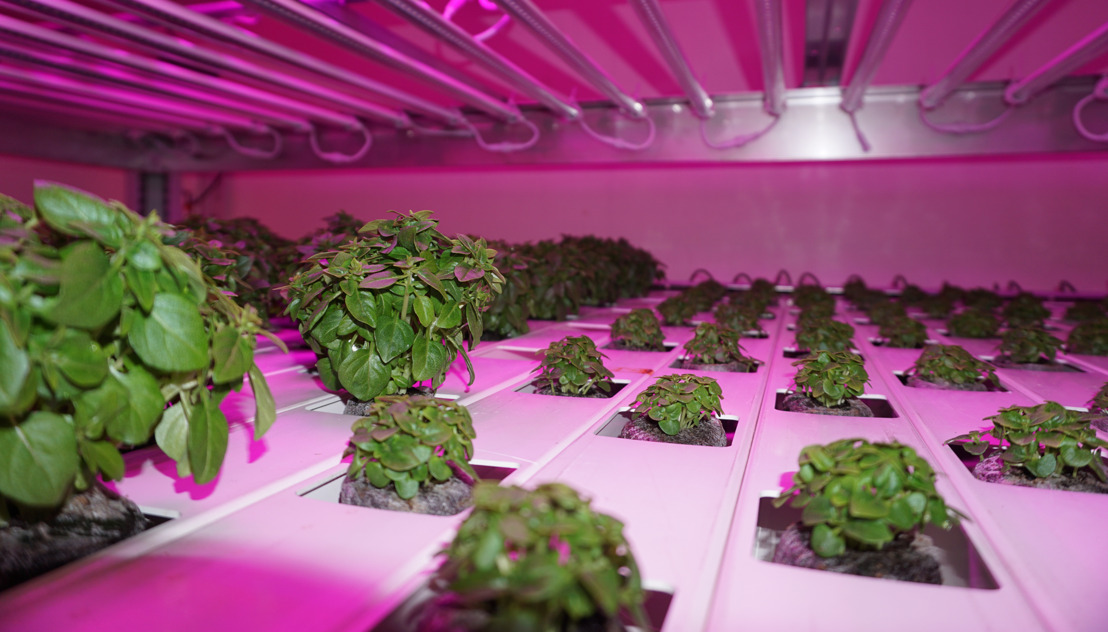 Smart City: Urban Harvest launches its sustainable vertical farm in the heart of Brussels
Wednesday, June 20, 2018
Urban Harvest grows aromatic herbs all year long in the city,
greatly increases production per square meter on the ground,
and uses 90% less water compared to traditional agriculture.
BRUSSELS | The startup Urban Harvest is launching its first commercial vertical farm, producing aromatic herbs in Brussels. The duo of entrepreneurs, Olivier Paulus and Alexandre Van Deun, grows herbs such as basil, oregano, dill and chives. These herbs are then distributed to supermarkets, restaurants and caterers.
Urban Harvest produces its herbs locally, close to the consumers and preferably in abandoned buildings such as industrial buildings or old parking lots. Thanks to the modularity of the system, new farms can be launched very easily.
Modular construction
Urban Harvest's vertical farm consists of several stacked layers, as for growing chicory or mushrooms. The herbs are grown with a combination of hydroculture, a process consisting of growing plants in water, and LED lighting. The team controls the growth conditions and adjusts them as necessary to obtain plants which are both sustainable and full of flavor. And just like any other farm, Urban Harvest manages its production from A to Z: from sowing to delivery.
90% less water
Urban Harvest uses up to 90% less water for its production compared to traditional agriculture. The startup's innovative production system uses every square meter in an optimal manner. A ground surface of one square meter can easily produce up to 200 plants per harvest, with minimal water consumption. Furthermore, Urban Harvest grows and harvests herbs 365 days a year. This way, restaurants, caterers and supermarkets can be certain of receiving sustainable and high-quality plants, all year long.
Need for innovation in agriculture
Alexandre Van Deun, co-founder of Urban Harvest: "We are focusing first on aromatic herbs as these are currently being massively imported from Israel, Spain or even Kenya. This is obviously not sustainable given that we could be growing them locally. We aim to provide our customers with herbs which are both tasty and sustainable, as well as being locally grown."
Olivier Paulus, co-founder of Urban Harvest: "Urban Harvest is part of the solution to guarantee healthy food to our generation as well as the generations to come. There is an urgent need for innovative farming methods if we are to keep up the pace with population growth, climate change and the decreasing availability of agricultural land and irrigation water."
Smart City Brussels
Urban Harvest installed its first vertical farm in Etterbeek, in an unoccupied warehouse of the FreshMed supermarket. Urban Harvest's first products are already available for sale in the FreshMed and Färm supermarkets.
Urban Harvest forms part of the Start It @KBC accelerator, which supports innovative ideas and scalable business models. The Region of Brussels-Capital is supporting the pioneering project with advice and a subsidy as part of the Smart City strategy.
Crowdfunding to double the production capacity
In September 2018, Urban Harvest will launch a crowdfunding campaign via Spreds.com. The startup wishes to raise at least 50.000 euros to increase its production capacity up to three tons of aromatic herbs per year as from 2019.
"The investors will be able to invest in a company with a positive impact both on humankind and on the planet", says Alexandre Van Deun, co-founder of Urban Harvest.
Alexandre Van Deun Co-founder, Urban Harvest
Olivier Paulus Co-founder, Urban Harvest