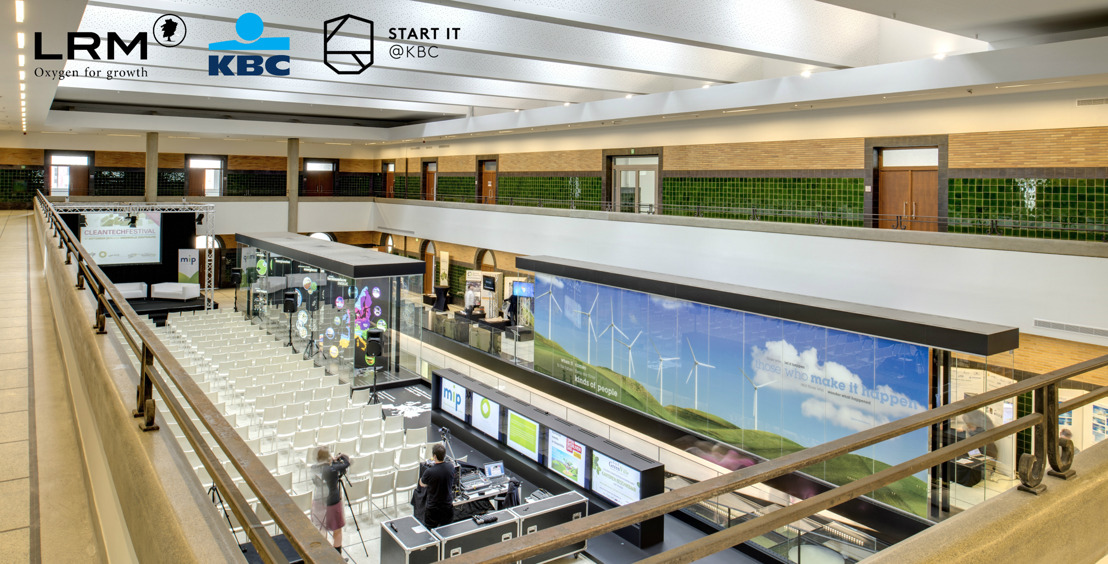 Start it @KBC, KBC and LRM join forces to boost startups in Limburg
Hasselt, 16 April 2019 - The accelerator Start it @KBC, bank-insurer KBC and the Limburg investment company LRM are teaming up to offer enhanced support for startups in Limburg. Startups situated in one of the nine incubators in that province already had access to workspaces and support, but from today, they will also be able to draw on the financial expertise of KBC and apply for places on the Start it @KBC accelerator programme. This will give these young companies access to extra coaching in areas such as sales, recruitment, pitching, and so on.
The Limburg incubator network is made up of nine thematic incubators, each specialising in a particular sector. In the Corda INCubator, for example, the focus is on IT and innovation, while at Greenville it is on cleantech and at Agropolis on smart agriculture. Limburg startups already have access to a modern office environment with appropriate mentoring, support and an established network. The partnership with Start it @KBC now adds the international ecosystem of Belgium's biggest accelerator to the mix, while KBC will make its financial expertise available and put starter businesses in touch with business angels or other investors.
Lode Uytterschaut, founder and CEO of Start it @KBC: 'There's no doubt that supporting startups in specialist incubators offers real, practical benefits and allows us to work in a highly targeted way. The cross-fertilisation within the ecosystem is one of the greatest strengths of Start it @KBC, and will also play a key role here. This partnership is above all intended to add value and bring people together and – along with KBC and LRM – to contribute to the success of startups in Limburg.'
Wim Leemen, KBC Regional General Manager for Limburg: 'KBC has been providing tailored financial services and products to companies and startups at the Corda Campus for some time through the KBC Cube. But more importantly, we want to offer whatever help we can to enable startups to grow their business ideas.'
Tom Vanham, CEO of LRM: 'Young companies can learn a great deal from each other and from experts. That makes a well-developed ecosystem worth its weight in gold. The partnership with Start it @KBC enlarges the network for our startups in Limburg and opens doors for starting entrepreneurs.'
Preparing for entrepreneurship
Starter businesses selected by Start it @KBC have free use of the co-working space at the Corda Campus in Hasselt for a year. They can participate in all the accelerator workshops at the Start it Academy, attend any number of startup events, and have access to an extensive international network of experts.
/////
ABOUT THE KBC GROUP
KBC is one of the leading financial groups in Europe. An omnichannel bank-insurer with a geographic focus on Europe, it caters mainly for private individuals, SMEs and local mid-cap enterprises. It occupies key and often leading positions in its core markets of Belgium, the Czech Republic, Slovakia, Bulgaria, Hungary and Ireland. The group also has a selective presence in other countries and regions elsewhere in the world.
KBC is one of the largest companies in Belgium and is listed on the Euronext Brussels.
Learn more at www.kbc.com and www.kbc.be.
ABOUT LRM
LRM is an investment company that develops and stimulates economic growth in Limburg. It provides a solid basis for fostering the growth of businesses and projects that create jobs in Limburg. Its financial resources and expertise, together with Limburg's key assets, create a unique breeding ground for talent and innovation. For more information: www.lrm.be