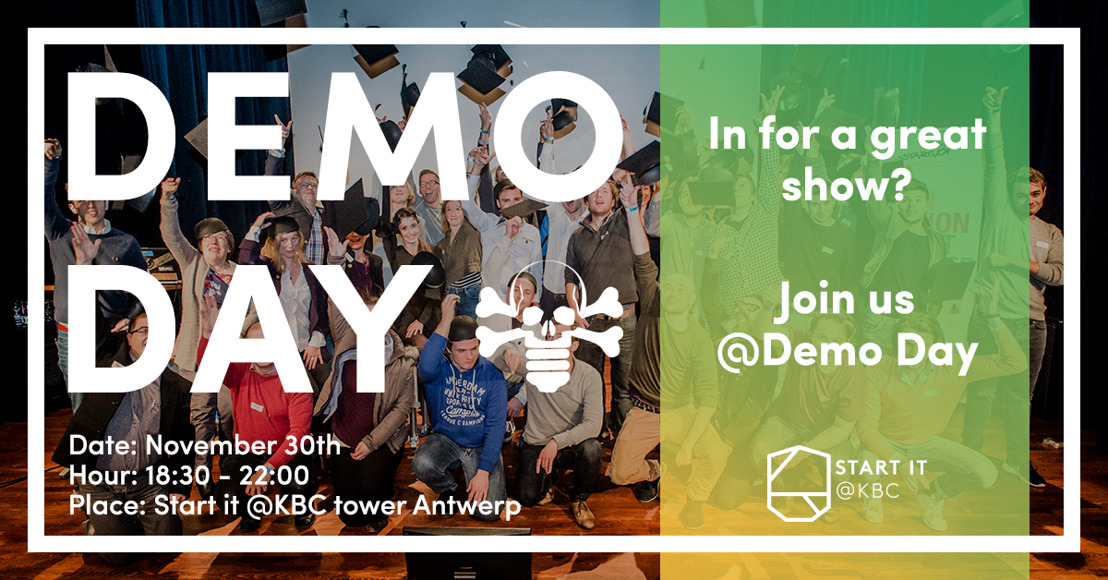 Start it @kbc: three years of Belgian start-up culture
Demo Day on 30 November: 14 top pitches, 2 awards!
Thursday, November 24, 2016 —
Three years ago, Start it @kbc gave our country a hefty injection of innovative entrepreneurship; the establishment of the nation's largest start-up community brought about a seismic shift in Belgian start-up culture. At Demo Day on 30 November, we will be looking on the past few years as well as to the future. Take a look behind the scenes of the community events, watch 14 promising start-ups and scale-ups give their business pitches, and attend the presentation of two business awards.
14 pitches
Convince a critical audience of 300 captains of industry, investors and entrepreneurs of an innovative business idea in just three minutes... This is the challenge set for 14 Belgian start-ups in the Start it @kbc hub in Antwerp on 30 November. At the very first Demo Day, and in true Silicon Valley style, they will showcase the courage, innovative thinking and public-speaking skills that they that have made their own within just a short period of time.
Two Awards
Two Belgian start-ups will be presented with an award at Demo Day.
The start-up chosen by the audience as being the best pitcher will go home with the Eddy de Nys Award, named after the Cronos CFO who was involved with Start it @kbc from the very beginning and who passed away last year.
Meanwhile Start it @kbc founders Lode Uytterschaut and Katrien Dewijngaert will be presenting the very first Start it @kbc Award. This award pays tribute to the entrepreneur who made the most progress during the Demo Day preparations and who showed the most passion and commitment.
Three years of start-up-culture in figures
Katrien Dewijngaert and Lode Uytterschaut will also take you behind the start-up scenes and tell you about three years of incubator work in Belgium. What is their vision on the start-up landscape? And what should the community expect in 2017?
Programme
18:30 Welcome with G&Ts and appetizers
19:00 Pitch competition
20:30 Presentation of the Eddy De Nys Award by Dirk Deroost, Commercial Director at Cronos
Presentation of the Start it @kbc Award by Katrien and Lode, founders of Start it @kbc
20:40 Three years of start-up culture in figures
20:50 Stand-up buffet
22:00 End
Where and when?
30 November 2016
KBC Tower –- Schoenmarkt 35 – 2000 Antwerp (3rd floor)

Click here for more information about Start it @kbc and an overview of all participating start-ups.
Want to take an exclusive look back at three years of Belgian start-up culture?
Eager to witness the pitching skills of 14 high-potential start-ups and scale-ups?
Be sure to confirm your attendance at Demo Day before 25 November by sending an e-mail to saar@contentcats.be.