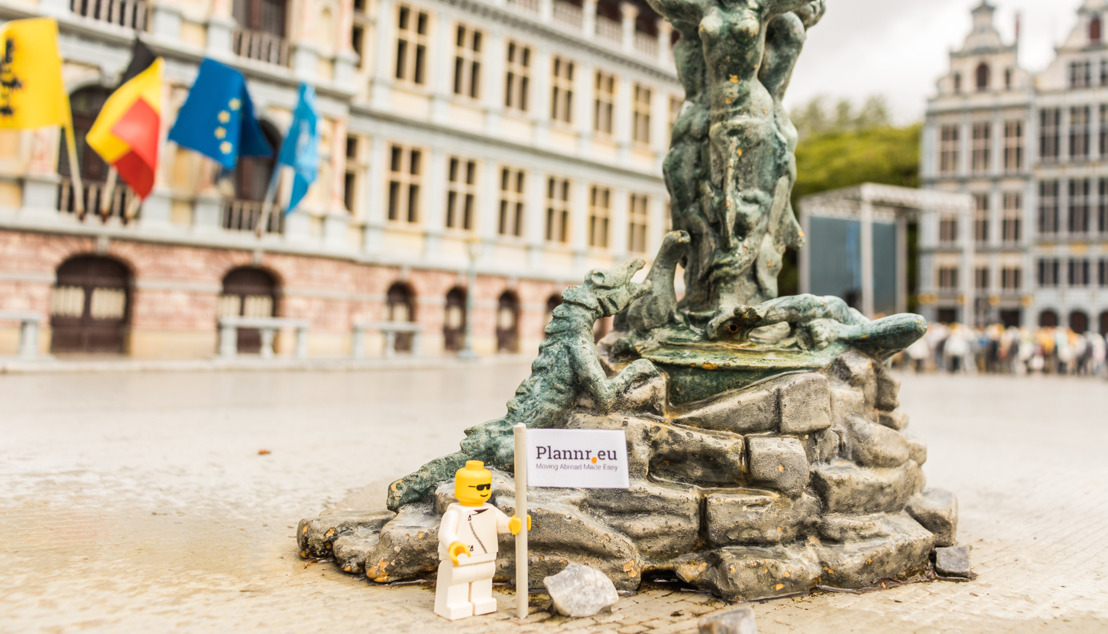 Start-up Plannr.eu simplifies expatriation to a few clicks
Moving abroad made easy
Monday, June 24, 2019 — An increasing amount of the individuals and professionals who take the leap to move abroad, need to arrange their move on a Do It Yourself basis. At the same time, expatriation is still a complex matter. That's why Plannr.eu launches a platform that guides expats who are coming to Belgium and Belgians who are going abroad. In a number of clicks, these internationals can navigate through the jungle of administration, language, local legislation, taxation, visa and insurances. Plannr.eu is part of the accelerator Start it @KBC that supports innovative and scalable entrepreneurship.
Anyone with plans to move abroad, can count on Plannr.eu for a free and personalized planning from A-to-Z. From requesting a bank account, insurances, administrative support or language lessons to the smaller practical matters like tax declarations or finding the perfect school. Plannr.eu provides an answer for all these challenges.
Jelle Butzen, CTO of Plannr.eu: "The expat market just is a complex market. The processes that come into play with moving abroad are not only complex, but they also differ per country. On top of that, relocation touches a variety of sectors, going from logistics, real estate, governments, legal to insurance and banking. Each sector has their own set of software tools which makes it difficult to create a fully integrated solution. With Plannr.eu we apply a modular approach and invest in the latest technologies. By having an open architecture and setup, we can bridge the gap between the different 'islands' of these sectors."
Plannr.eu collaborates with governments and qualitative service providers such as moving firms, fiscal experts, realtors, relocation agencies and banks to make the offering of Plannr.eu as complete and easy as possible. For the end user the basis of the application is, and always will be, free. Only for additional services, a fee is applied.
Do It Yourself
Under the impulse of different trends on the market, a clear shift towards 'Do It Yourself' can be noticed. On the professional market, it is no longer HR or a relocation agency that manages the expatriation, but the employee that has control. 52% of all companies implemented a policy where the employee has a budget to arrange the relocation.
Additionally, during the past 2 decades, there has been a steep increase on the private market too. Besides a young Erasmus generation that is eager to start an adventure abroad, the older baby boom generation has found an appetite for these international ventures too. The vast majority of these moves are done on a Do It Yourself basis.
Turning the classical model upside down
The clients in the relocation market might have changed a lot over the past 2 decades, the business model within the classical relocation agencies has -for the most part- stayed the same. Pieter Moeremans, CEO of Plannr.eu: "In essence, these classical agencies are paid for the knowledge you need to make your move abroad a success, which can sometimes lead to a lack of transparency. With Plannr.eu this model is turned upside down. The end user immediately gets access to all the information he/she will ever need to make their expatriation a success. Depending on the needs, pre-existing knowledge and budget, the user can decide to get some additional help from an expert. This way, we give back the control and freedom to the expat, while helping our partners to get the most out of their expert knowledge and increase efficiency."
First stop: Belgium. Next up: The world!
Today, Plannr.eu is freely available for internationals with plans in Belgium. The team behind Plannr.eu is actively preparing to launch internationally. "We already sparked the interest of partners in a dozen other countries. With our scalable approach and our network, we can easily expand to other countries." Pieter mentions.
Funding
In 2018, Plannr.eu raised 250 000 euro seed funding through a combination of private investors and Spreds. To realize their ambitions in Europe and beyond, the team starts a second funding round by the end of this summer.