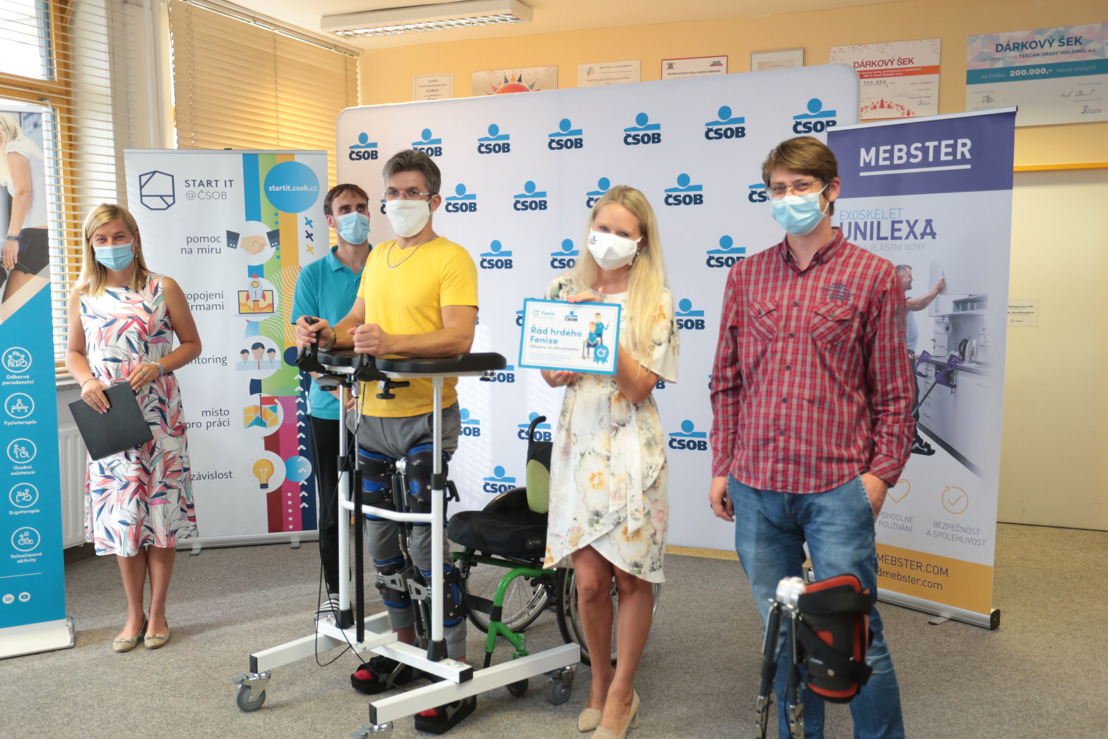 Thanks to the UNILEXA exoskeleton, Radek can again stand on his own two feet
The medical aid was given to him today by ČSOB
Monday, September 14, 2020 — Czech Republic. The UNILEXA exoskeleton is a revolution for wheelchair users. It allows them to stand upright or even take a short walk. The unique medical aid was developed by MEBSTER, a successful graduate of the Start it @ČSOB program. Start it @ČSOB is built on Start it @KBC, the largest accelerator and community on the market in Belgium. Today, ČSOB handed over already the third exoskeleton to a client of the ParaCENTRE Fénix in Brno.
UNILEXA literally changed my life. I can stand on my own feet again and walk, which I never dared hope.
"Thanks to money donated by our clients from every transaction made with the Good Will payment card, we were able to buy three exoskeletons and donate them to the Hamza Specialist Sanatorium for Children and Adults and the ParaCENTRE Fénix. It's great that our accelerator helps kickstart companies that change people's lives for the better through technological innovations," says Michaela Lhotková, Executive Director for Payment Solutions and Innovations.
Start it @ČSOB has been helping MEBSTER since the very beginning. MEBSTER was one of the four companies involved in the accelerator's pilot phase in 2018. The bank provided the company advice of its experts on how to develop its business. This year, MEBSTER managed to get the UNILEXA exoskeleton certified as a medical device and launch it on the Czech market.
"The Start it @ČSOB programme helped us figure out our business plan and focus our strategy on research and development to ensure that we reach the market as soon as possible and are prepared for investors who might join our project. We have been successful in both those things. This achievement is only the first step for us. Our development activities are still ongoing. We are already working on the second version of the exoskeleton, the UNILEXA 2.0," says Michal Gloger, founder and CEO of MEBSTER.
UNILEXA allows people with partial or complete paralysis of the lower limbs to stand on their feet and walk again. The exoskeleton was designed to fit well, be easy to put on and comfortable to walk in. When folded, UNILEXA is very compact, making it easy to transport and use. MEBSTER offers its exoskeleton in two options – the UNILEXA PRIME is designed for medical centres. This universal solution allows them to replace the individual adjustable parts to fit individual clients. The UNILEXA HOME is designed for individuals and for everyday intensive use at home. The HOME version is customised to perfectly fit each individual client.
///
About Start it @ČSOB
The bank accelerator's unique feature is that it does not restrict its view to specific industries but supports any innovative company that can provide better solutions for customers even in quite unexpected areas. Within Start it @ČSOB, businesses can benefit from the guidance and mentoring from ČSOB experts for five months, together with the benefits of the membership in the prestigious Global Accelerator Network, which brings together over 10,000 top startups from six continents. Start it @ČSOB is built on the Start it @KBC project run by its parent company, the largest accelerator on the market in Belgium. Within the KBC Group, it has also been launched in Hungary.

Nathalie Claessens Perscontact, Start it @KBC