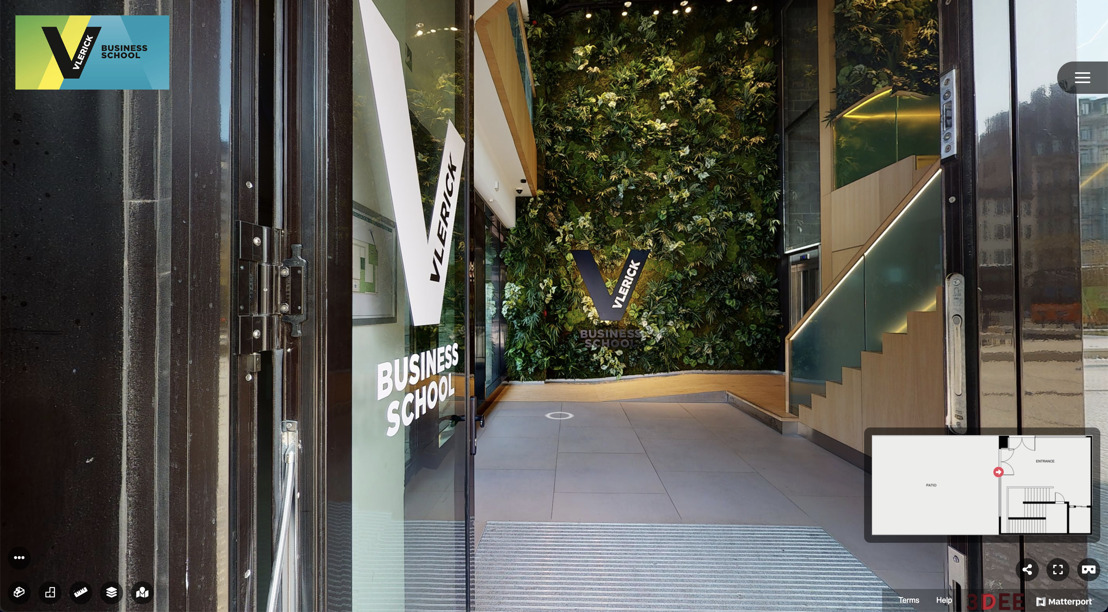 3-DEE brings the Brussels campus of Vlerick Business Schools to you
Antwerp, June 2 2022 - April and May are always associated with information days and open-door days in the student world. As an innovative player, Vlerick Business School has chosen to give a new twist to the information days by collaborating with 3-DEE. The Antwerp-based start-up specializing in personalized virtual tours has virtually mapped the entire 5,000m² Brussels campus. This means that new, current, and future students, professors or people who are curious can now visit the campus whenever they want, 24 hours a day, 7 days a week.
Although school fairs, open-door days, and information days can again be held physically, it is still difficult for international students to get a feel for the campus and campus life because of the distance.
"At Vlerick, we attach great importance to welcoming new local and international students as well as our colleagues," says Sara Teuwen, Senior Program Advisor at Vlerick. "That's why we found it necessary to give them the opportunity to feel at home on our campus even before they start the new academic year," she adds. So Vlerick decided to create a personalized virtual tour with 3-DEE.
Distance, traffic jams, high gas prices or time are no longer an obstacle to visit the Vlerick campus in Brussels thanks to their personalised virtual tour. The virtual tour created by 3-DEE allows everyone to visit the campus whenever and wherever they want, because all they need is an internet connection. You can then discover all the classrooms and meeting rooms, coffee corners, the V-bar and even hidden gems like the relaxation room. As the campus covers 5000m², the mini map at the bottom right of the tour shows you where the different locations are and helps you to find your way around the campus.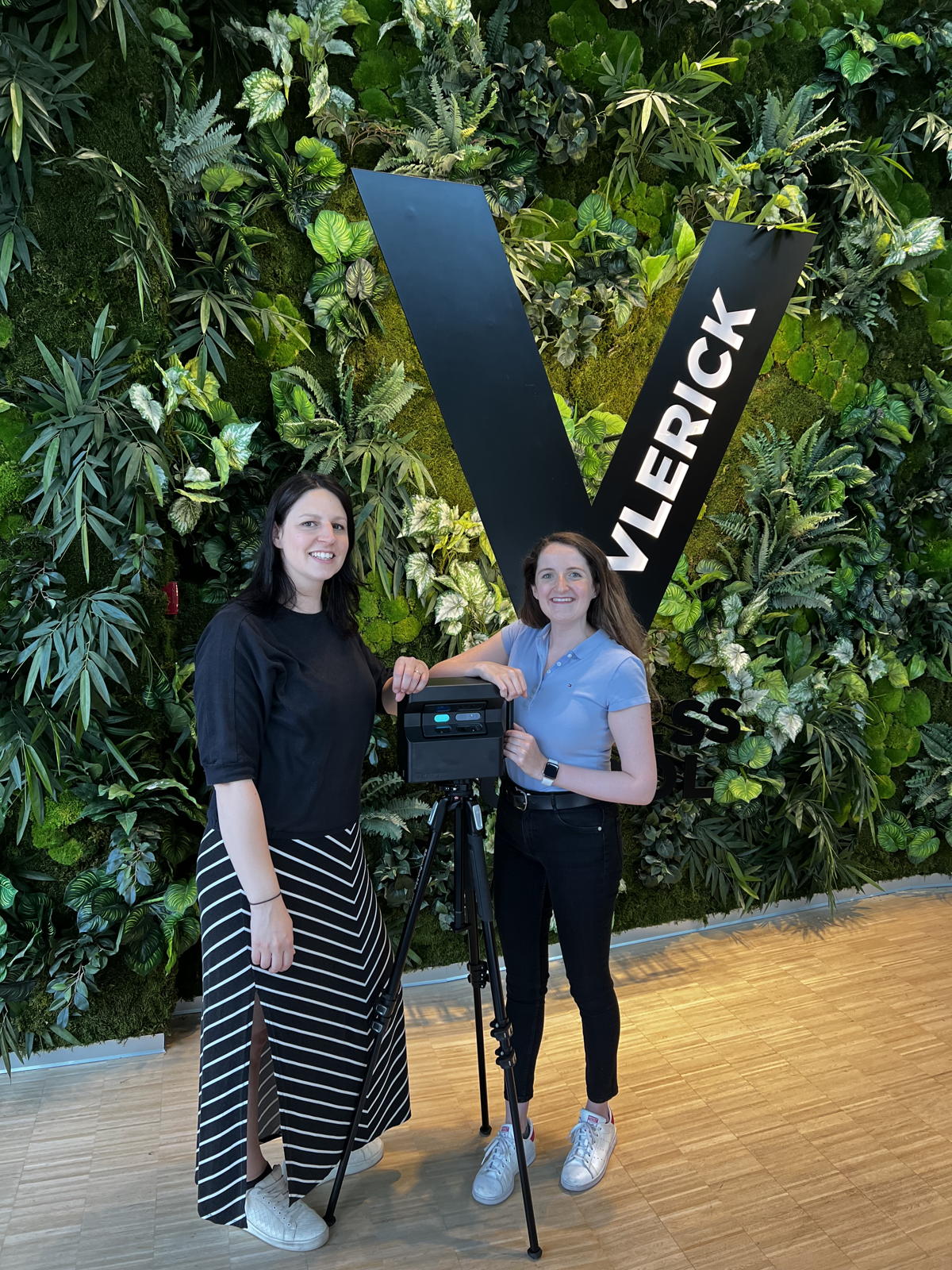 3-DEE opts for a personal approach and customizes the virtual tours according to the company's needs. "Our clients face different challenges, so we tailor our virtual tours to their needs," explains Sophia Huybrechts, the founder of 3-DEE.
This is why a preliminary interview precedes a virtual visit. During this interview, the company explains its challenges, such as recruiting and welcoming new employees, improving the customer experience, meeting customer expectations, increasing visibility and online sales, working more efficiently, etc.
From the preliminary interview to the virtual visit
​After the preliminary interview, 3-DEE makes a physical visit to scan the location. They then place a camera that rotates 360 degrees at various strategic locations in the space to be scanned to create different panoramas. 48 hours after the scan, the client receives the basic virtual tour, and then discusses the customization of their virtual tour by choosing from the 42 customization options that are available. These include videos, photos, links, mini floor plans, detailed floor plans with measurements, a measurement function, chat, contact form, testimonials, product placement and other features.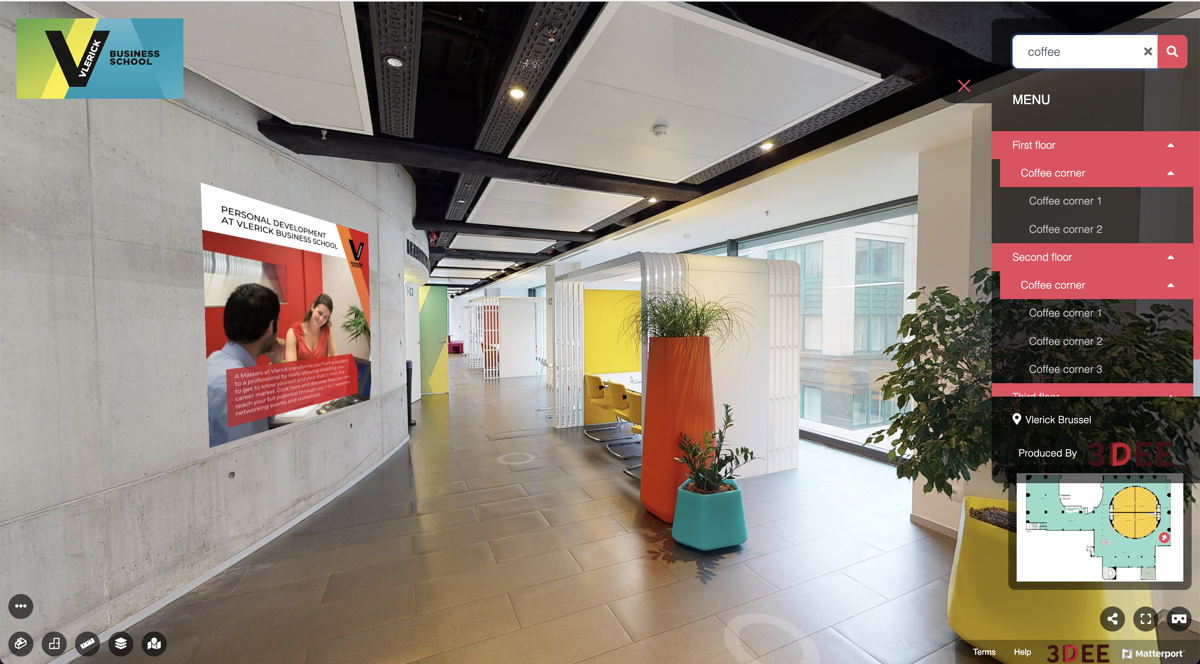 Although 3-DEE has only been around for 8 months, the start-up has already been able to help some big names virtually map their business with this new marketing, sales and onboarding tool. Besides MINI and BMW Meerschman, B&B L'atelier, Hotel Ter Elst, JJ Maes and Pursuit Femmes, The Little Gym, Vlerick has now joined the list. Start it @KBC also believed in the potential of the 3-DEE virtual tours. After a presentation in front of a jury of 10 people, 3-DEE was admitted to Belgium's largest accelerator program. They also created a virtual tour of their co-working space in Antwerp.
---

Sophia Huybrechts Founder, 3-DEE

Anne-Sophie Jonkers Press Relations Start it @KBC
---
ABOUT 3-DEE
​3-DEE was founded by Sophia Huybrechts, 25, and specializes in personalized virtual tours. This marketing, onboarding and sales tool allows you to view any existing location in detail and interactively, as if you were physically present, but from any mobile device. They start with a basic virtual tour where you can only look inside a space. Together with their client, they then choose which of the 42 customization options will be highlighted in the virtual tour, so that it can be used for internal and external purposes.
​
​For example, a measurement feature will be added so you can measure walls, floors and objects without having to physically move around. This is ideal for requesting quotes without having to go to different vendors, renting (event) rooms and planning renovations. In addition, the menu and floor plan can also be used for fire drills, reception, and customer experience, as you can easily navigate from room to room and find your way around the location. But it can also be used for commercial purposes, because on the one hand, photos, videos and panoramas are provided with the virtual tour. On the other hand, the statistics allow you to make strategic decisions based on the behavior of the visitors of the virtual tour.