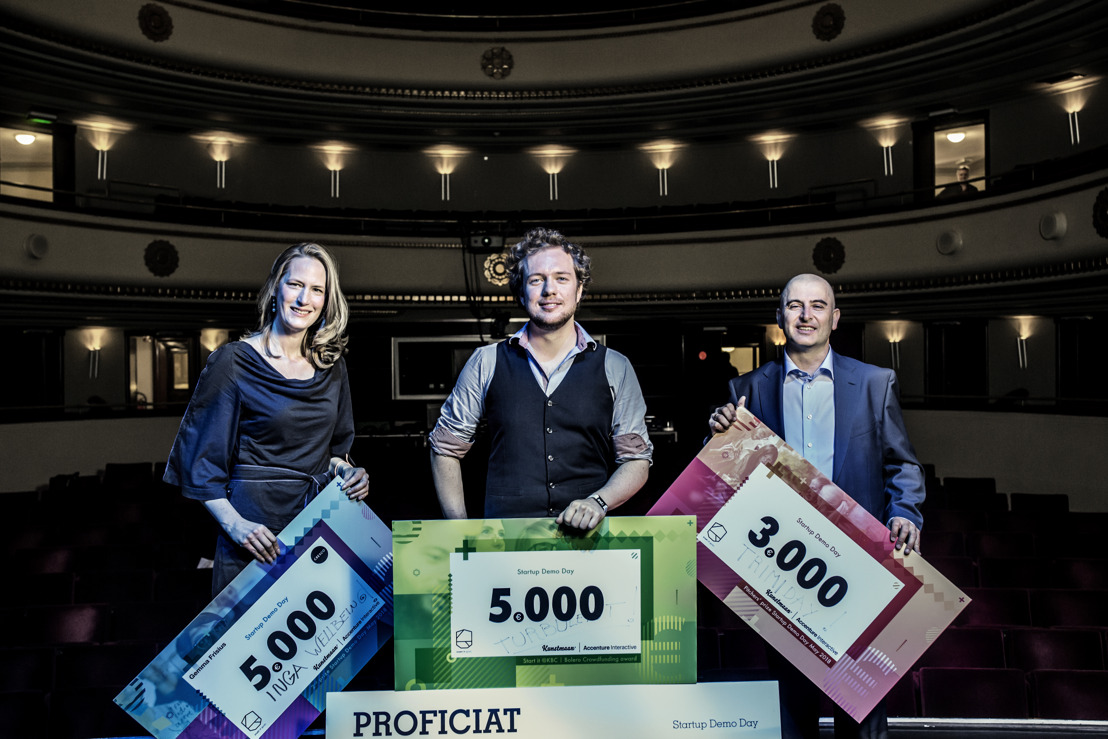 Turbulent wins Start it @KBC - Bolero Crowdfunding Award 2018 at and& summit & festival
+50,000 euro in prizes at the biggest pitch competition in the country
Friday, May 4, 2018
Turbulent wins Start it @KBC - Bolero Crowdfunding Award
Second and third prizes of Demo Day go to startups INGA Wellbeing and Trimiday
LEUVEN - Startup Turbulent has been declared the winner of the Start it @KBC - Bolero Crowdfunding Award. The award was presented at the conclusion of yesterday's Demo Day, the largest pitch competition in the country, as part of the and& summit & festival in Leuven. Founder Jasper Verreydt accepted the 10,000 euro prize along with a place in the Start it @KBC accelerator and valuable strategic consultancy. He won the award on the strength of his pitch, which successfully convinced an audience of 450 investors and established entrepreneurs.
Start it @KBC and Bolero Crowdfunding joined forces this year, organising this latest edition of Demo Day within the unique setting of the and& summit & festival in Leuven. At the crossroads of tech, health and creativity, the festival attracted more than 100 top speakers from around the country and around the world. Twenty promising entrepreneurs from the Start it @KBC accelerator programme and the Bolero Crowdfunding platform were also given the opportunity to pitch their innovation on stage in just three minutes. 450 critical investors and entrepreneurs voted for the startup with the most convincing business idea.
Strongest pitch, biggest prize pot ever
The winners of Demo Day shared a total prize pot of 50,000 euros, no less than ten times the amount of previous editions.
Founder Jasper Verreydt from the startup Turbulent received the most votes from the audience for his excellent pitch. Jasper was presented with the Start it @KBC - Bolero Crowdfunding Award 2018 by Lode Uytterschaut from Start it @KBC and Ellen Lemaire from Bolero Crowdfunding. The award comes with a cash prize of 10,000 euros, 18 months of mentorship at the Start it @KBC accelerator and strategic branding and communications coaching courtesy of Accenture.
Turbulent develops affordable micro-hydro power plants that deliver energy without any impact on local ecosystems. The Turbulent turbines are unique because they can convert water power on small watercourses into energy.
Jasper Verreydt, co-founder of Turbulent, is very pleased with his award: "We make an incredibly cool product with an important social relevance, and it is very nice to get such recognition for it on Demo Day. We are at the point with Turbulent of industrializing and scaling our micro-hydropower plants, both geographically and in terms of volume. That requires extra staff and resources, so this Award comes at the right time for us. This is a victory for our entire team. "
The second and third prize for the best pitch on Demo Day went to startup INGA Wellbeing, a collection of customized, comfortable and stylish clothing for patient care, and to startup Trimiday, an app that lets people decide for themselves when they want to view advertising. They received 5,000 and 3,000 euros respectively, along with a place at Start @KBC and coaching by Accenture and the Gemma Frisius Foundation.
A strong pitch is needed to raise funds
Lode Uytterschaut, Founder Start it @KBC: "Start it @KBC is one of the first accelerators in Belgium to offer comprehensive pitch training. A strong product needs a strong story, and a strong story needs a strong pitch. You need to be able to explain – with clarity, conviction and in a very short time span to customers, investors, partners – what it is your business does, what problems it solves and how. And that is something we continue to invest in as part of our accelerator programme."
Ellen Lemaire, Head of Bolero Crowdfunding: "We witness on a daily basis how important it is for companies to attract funds to turn their projects and growth objectives into reality. It is no secret that the first investment round is the hardest for any given startup. Which is why we are all the more committed as a crowdfunding platform to enable greater access to investors."
Pieter Goiris, host of the and& summit & festival: "Entrepreneurship is one of the key pillars of the and& summit & festival. We offer fascinating panel discussions in the conference, and have created side events with strong partners, including an invite only scale-up forum. With our startup Demo Day we focus on cutting edge 'upstart' talent that we want to boost."
More images.
Overview of prizes: see appendix.
////////
About and& summit & festival
and& is a one of a kind summit & festival at the intersection of health, tech & creativity. and& is curated for the curious. Expect a well-selected worldwide collage of +100 thinkers, inventors, entrepreneurs & artists of all backgrounds who will explore the impact of health, tech & creativity on future city life. Expect 4 days & nights of inspiring talks, avant-garde music acts, a start-up & scale-up forum, a tech expedition & art interventions in public spaces. The very first edition of and& is on May 2 3 4 5 2018 in various citywide venues in the intimate city of Leuven, Belgium.

and& summit & festival is an initiative of Leuven MindGate, a masterplan to develop the international positioning of the Leuven region as a premier destination for health, high-tech and creativity. and&'s mission is to apply the entrepreneurial spirit of Leuven MindGate to real world challenges of tomorrow's cities by creating a citywide stage for Leuven region based & top international innovation.

Partners of the festival are KBC, Start it @KBC, Bolero Crowdfunding, imec, Capricorn, KU Leuven and Deloitte. Discover the full programme here.
About Bolero Crowdfunding
KBC was the first bank-insurer and online broker in the world to launch its very own financial crowdfunding initiative. KBC connects between Belgian businesses and investors in order to boost funding into start-ups and SMEs in Belgium. It has an online securities platform named Bolero, where experienced investors are on the look-out for good opportunities to place their capital. Since the launch of www.bolero-crowdfunding.be, these investors have been able to subscribe to the shares of starter companies and to bonds issued by established SMEs.
Saar Dietvorst Press officer, Start it @KBC